In Focus: Future of Biosensors - Article

Open Access
Epidermal Differential Impedance Sensor for Conformal Skin Hydration Monitoring
Biointerphases
Journal for Biophysical Chemistry
2012
7:52
Received: 22 June 2012
Accepted: 2 August 2012
Published: 23 August 2012
Abstract
We present the design and use of an ultrathin, stretchable sensor system capable of conformal lamination onto the skin, for precision measurement and spatial mapping of levels of hydration. This device, which we refer to as a class of 'epidermal electronics' due to its 'skin-like' construction and mode of intimate integration with the body, contains miniaturized arrays of impedance-measurement electrodes arranged in a differential configuration to compensate for common-mode disturbances. Experimental results obtained with different frequencies and sensor geometries demonstrate excellent precision and accuracy, as benchmarked against conventional, commercial devices. The reversible, non-invasive soft contact of this device with the skin makes its operation appealing for applications ranging from skin care, to athletic monitoring to health/wellness assessment.
Keywords
Serpentine
Impedance Change
Hydration Level
Interdigitated Electrode
Anisotropic Conductive Film
1 Introduction
Skin hydration monitoring is a well-established and important technique in dermatology, for analyzing various diseases and determining the effectiveness of medical therapies [1–4]. Hydration measurement is also useful in cosmetology, for assessing the function of anti-aging and moisturization treatments [5–8]. Skin hydration levels are typically characterized by measurements of skin electrical impedance [9–12] or thermal conductivity [13], or by optical spectroscopic techniques [9, 14, 15] including reflectivity [16]. Indirect methods include evaluation of mechanical properties of the skin [17–19] or its surface geometry [20, 21]. Among these methods, electrical impedance provides the most reliable and established assessment, due to its instrumental simplicity and minimized cost. Several commercial systems that perform this measurement are available [22–25]. Such technologies generally rely on physical contact between the soft, curved surface of the skin, and rigid, planar electrodes [22]. Here, the accuracy and repeatability both depend critically on the contact force between the electrodes and the skin. As a result, most devices incorporate pressure-sensing components that help the user to apply, with precision, the appropriate force during measurement. Such devices are not well suited for spatial mapping, for evaluating sensitive areas of the skin, or for continuous monitoring, thereby greatly limiting their utility [26].
Here we present a different approach, based on extensions of previously reported concepts in 'epidermal' electronics, in which semiconductor and related devices mount on ultrathin, elastomeric sheets in open mesh geometries, and integrate with the skin in a soft, van der Waals process, without any external application of pressure. This process achieves intimate biotic/abiotic contact in a way that does not mechanically load or constrain the natural motions of the skin [27]. When incorporating devices with multiple functions, these epidermal systems enable non-invasive detection of physiological parameters such as electrical signals associated with activity in the brain, heart and skeletal muscles. In the following, we describe ideas and demonstration examples for an epidermal class of differential hydration sensor based on electrical impedance detection. The sensors effectively eliminate requirements on precise, external control of contact force, in a mode of integration that is mechanically 'invisible' to the wearer. The measurement outcomes can be interpreted using conventional approaches for impedance evaluation [28, 29]. The experimental results demonstrate, in fact, precision and accuracy that compare favorably to commercial moisture meters (CMM). Differential sensing schemes can be incorporated naturally, to compensate for variations in temperature, stresses/strains associated with human activity, and other disturbances that may lead to unexpected impedance changes. This capability is particularly valuable for applications in continuous monitoring. Arrays of miniaturized sensors can be achieved, for spatial mapping and, potentially, depth profiling of hydration. These collective attributes suggest that this type of technology, particularly when combined with other classes of sensors in a single system, could be valuable for wide-ranging uses in human healthcare and wellness evaluation.
2 Principle and Sensor Design
The epidermal hydration measurements reported here use impedance measurements performed directly on the skin, to exploit known correlations between electrical parameters of biological tissues and their water content [30]. In particular, both the conductivity and permittivity of human skin change with the skin hydration levels [25, 30]. As a result, the hydration levels can be determined through impedance measurements, through appropriate calibration.
2.1 Epidermal Skin Hydration Sensor with Differential Detection
Figure
1
shows images and schematic illustrations of an epidermal skin hydration sensor platform that consists of pairs of electrodes designed to quantify skin impedance. These electrodes form eight separate measurement channels (Fig.
1
a, labels 1 through 8), all with a common electrical ground. Channels 1 through 4 directly contact the skin, while 5 through 8 are insulated from it by thin layers of dielectric with embedded electrodes as floating grounds. We refer to the former (i.e. channels 1–4) and latter (i.e. channels 5–8) as measuring and reference electrodes, respectively. Figure
1
e provides a cross sectional illustration of a representative pair. Electrodes on common rows have identical geometries and designs: meander (Fig.
1
a; top row), interdigitated (Fig.
1
a; middle row), and circular (Fig.
1
a; bottom row) electrodes. Figure
1
b shows a magnified view of the last case, with reference and measuring electrodes on the left and right, respectively. The electrodes terminate at bonding pads near the edge of the overall system, joined through interconnects with serpentine geometries in mesh layouts that incorporate square pads at the nodes. Differential detection enabled by combined use of measuring and reference electrodes allows rejection of common mode disturbances in the measurement system as well as impedance changes caused by deformations in the serpentine interconnections.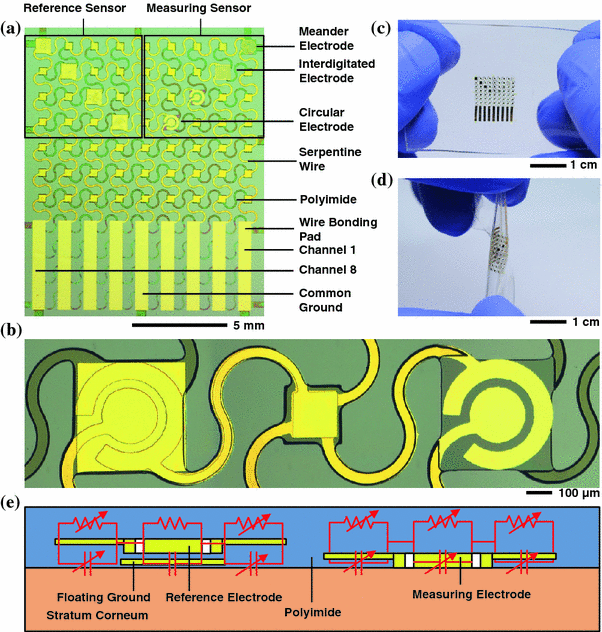 The fabrication of this device involves first spin-coating a sacrificial layer of polymethylmethacrylate (PMMA; 500 nm thick) and a layer of polymide (PI; 1 μm thick) on a silicon (Si) wafer substrate. Photolithographically patterned layers of Cr (5 nm) and Au (400 nm) form the electrodes as well as the serpentine interconnections, both of which include a top coating of PI (1 μm). Reactive ion etching (RIE) through selected regions of the PI defines vias to allow subsequent metallization to contact the serpentine interconnect traces at well-defined points. An additional patterned bilayer of Cr/Au (5 nm/200 nm) forms the floating ground plates. A final, uniform coating of PI (1 μm) encapsulates the system. Patterned RIE through the entire multilayer stack creates openings to allow contact with the skin and the open mesh structures needed to achieve desired levels of mechanical deformability. Removing the underlying PMMA by immersion in acetone for 5 min at 100 °C, allows the mesh to be removed from the Si wafer by use of water-soluble poly(vinylalcohol) (PVA) tape (Wave Solder Tape 5414, 3M Co.). Layers of Ti/SiO2 (5/40 nm) evaporated onto the backside of the released structure facilitate bonding to a thin, low-modulus silicone substrate (Solaris, Smooth-On, Inc.), first activated by treatment with ultraviolet induced ozone (10 min) to create reactive hydroxyl functionality on the surface. Dissolving the PVA tape in water for 20 min completes the fabrication, resulting in a mechanical construction that affords excellent stretchability (Fig. 1c) and flexibility (Fig. 1d), with a low effective modulus, which are all requirements for epidermal integration.
2.2 Conformal Skin Contact of the Hydration Sensor
The mechanics of the epidermal hydration sensor enable its integration with skin in a dry, physical lamination process, driven only by van der Waals interactions [
27
]. The result offers a reversible, conformal contact, in a thin and highly compliant configuration that allows the system to accommodate natural motions of the skin without delamination. This mode of integration not only forms a robust mechanical interface, but also a reproducible electrical contact to the skin, for the purpose of precise and reproducible impedance measurements. Figure
2
a shows a device mounted on skin, in an undeformed state. The silicone substrate in this case is only 5 μm thick; mounting involves applying the device to the skin using a temporary, water-soluble film of PVA for handling [
27
]. The device stretches with the skin, in a manner that does not impose any significant mechanical constraints, as shown for the case of various deformations (Fig.
2
b–e). Devices with somewhat thicker substrates (e.g. 50–100 μm) offer similarly favorable mechanics but with sufficient physical toughness to allow manual peeling from and re-attachment to the skin, for repeated use (Fig.
2
f).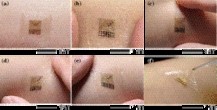 3 Experimental Setup and Methods
5 Conclusions
The results reported here illustrate a soft, 'skin-like' technology, capable of intimately and non-invasively integrating with the skin for the purpose of quantitative assessment of hydration levels. The accuracy and repeatability of the measurement are both comparable to conventional devices that rely on rigid electrodes and controlled pressures during contact with the skin. The ability to perform internally referenced detection, in a differential mode, and the straightforward scaling to arrays of sensors for spatial mapping applications represent two additional, valuable features. Development of silicone substrates with enhanced ability to accommodate skin transpiration, and incorporation of wireless data transmission capabilities represent important directions for future work.
Declarations
Acknowledgments
This work was carried out at the Fredrick Seitz Materials Research Laboratory Central Faciliteis, University of Illinois, which are partially supported by the US Department of Energy under grant DE-FG02-07ER46453 ad DE-FG02-07ER46471.
Authors' Affiliations
(1)
Frederick Seitz Materials Research Laboratory, Department of Materials Science and Engineering, University of Illinois at Urbana-Champaign, Urbana, USA
Copyright
© The Author(s) 2012
This article is published under license to BioMed Central Ltd. Open Acces This article is distributed under the terms of the Creative Commons Attribution License which permits any use, distribution, and reproduction in any medium, provided the original author(s) and the source are credited.