Original article

Open Access
Characterization of sample preparation methods of NIH/3T3 fibroblasts for ToF-SIMS analysis
Biointerphases
Journal for Biophysical Chemistry
2013
8:15
Received: 20 May 2013
Accepted: 20 June 2013
Published: 5 July 2013
Abstract
The information that is obtained from single cells during time-of-flight secondary ion mass spectrometry (ToF-SIMS) analysis is influenced by the method that was used to prepare the cells. The removal of extracellular media before analysis is necessary, but the rinsing technique should not damage the plasma membrane of the cell. The presence of intracellular salts reduced the secondary ion yield an average of 2.6-fold during Bi3 +/C60 ++ depth profiles. Chemical fixation followed by rinsing removed a majority of the intracellular salts, "recovering" the positive secondary ion yields. The formaldehyde-fixation process removed a majority of the intracellular Cl-, but other key anions were not removed in significant amounts. The data presented here is consistent the anion neutralization mechanism largely responsible for the lower ion yields. All of the organic secondary ions that were detected in the freeze-dried cells were also detected in the formaldehyde-fixed cells, suggesting that the fixation process did not remove any molecular species to an extent that is detectable by ToF-SIMS. Compared to freeze dried cells, well preserved, frozen-hydrated cells showed little increase, or a decreased yield, for most low mass ions, but an increased yield for larger mass fragments. This is consistent with a reduced damage cross section at cryogenic analysis temperatures, although proton donation from water and reduction the salt effects in the presence of water likely also play roles. Numerous ions detected from the frozen-hydrated cells were not detected from the freeze dried cells, however many of these ions were attributed to chemical combinations of water, salts and the ammonium acetate rinsing solution.
Keywords
ToF-SIMS
Cells
Depth profile
Sample preparation
1 Background
Time-of-flight secondary ion mass spectrometry (ToF-SIMS) is a powerful tool that has been used to explore a wide range of biologically relevant samples including: cells and tissues [1–4], lipids [5], proteins on surfaces [6, 7], DNA [8, 9], drug eluting stents [10, 11], explanted biomaterials [12] and decellularized matrix [13]. The unique abilities of ToF-SIMS to acquire a mass spectrum with high mass resolution, as well as produce chemical maps with submicron spatial resolution [14] provides an effective method to probe biological cells and tissues. These strengths, along with the capacity to sputter etch organic material [15, 16], may enable the 3D visualization of sub-cellular features including drug, metabolite or nanoparticle behavior within single cells. There is a continuing need to characterize how diverse sample preparation methods influence the information that is acquired from biological cells [17].
The methods to prepare cells for SIMS analysis can be organized in several ways. A schematic that outlines the most common techniques is shown in Figure
1
. They can be separated into one of two fundamental categories: either the cells are dehydrated prior to analysis, or the intracellular water is conserved and the cells are analyzed frozen-hydrated. The methods may also be organized by the mechanism that removes the culture media from a cells' surface before analysis. Either the media is removed with an isotonic rinsing solution, or the cells are freeze-fractured, removing a portion of the cell and all of the media above it, creating a pristine surface for analysis [
18
,
19
].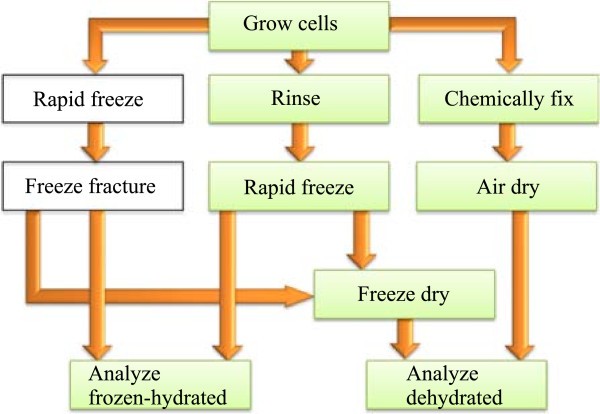 One of the most common constituents in biological specimens are salts, particularly Na+, K+ and Cl-, which greatly lowered the organic SI yields in rat brain tissue and DPPC films [20], as well as bovine serum albumin and polypeptide films [21]. SI yields were "recovered" by rinsing these samples, which removed most of the salts. On single cells, several rinsing solutions were compared, and it was determined that an isotonic solution (150 mM) of ammonium acetate (AA) best removed extracellular growth medium salts and best preserved cell morphology [22]. Ammonium formate (AF) has worked similarly on cells [23] and tissues [21, 24, 25]. Interference reflection microscopy determined the volume change of cells immersed in an AF rinsing solution. At 1 minute of immersion time there was a roughly 1.4× volume increase and at 16 minutes the cells had experienced a 2× volume increase. The swelling amount was not sufficient to rupture the plasma membrane and many cells were viable after a 16 minute immersion [24].
Breitenstein et al. used gluteraldehyde-fixation to image single NRK cells in 3D and argued the merits of chemical fixation as a method to prepare cells for ToF-SIMS analysis [26, 27]. The key conclusions included gluteraldehyde-fixation did not cause significant shrinkage of the cell, that cellular compartments remained intact following fixation, and that the distribution of most molecular chemical components (proteins, DNA, lipids) was conserved.
The effects of cryofixation and freeze-drying, as well as various chemical fixations on the morphology and SI yields from the plasma membrane of human fibroblasts were compared by Malm et al. [24]. While the cells' extracellular fine structure was better preserved using chemical fixation, the native intracellular K+/Na+ ratio was not maintained. The permeability of the plasma membrane to mobile ions was also utilized in early ion microprobe experiments which tested practical ion yields [28]. Intracellular K+/Na+ ratios have been used as one indicator to determine the quality of cell preservation. Popularized in the SIMS community by Chandra et al., this ratio has been used to identify healthy cells from damaged ones [18, 29, 30], where a healthy cell has a high K+/Na+ ratio. Membrane damage, caused by either the freezing or drying processes resulted in increased permeability to diffusible ions and the loss of this natural gradient. Many of these issues were discussed by Clerc et al. with an emphasis on mapping intracellular drugs and nuclear medicine compounds [31]. A major assertion was that cryofixation methodologies are required when examining highly mobile ions and chemical fixation should only be employed when studying molecules fixed to cell structures.
The investigation of frozen-hydrated (FH) cells with ToF-SIMS may be beneficial for several reasons. First, it allows a cell to be studied in its most native state. Rapid freezing provides a "snapshot" of the cell at a given instant, arresting all biological activity on a millisecond time scale [32]. Dehydration may cause cells to shrink or crack, may redistribute membrane lipids and/or cause plasma membranes to rupture [22, 24, 33]. However shrinking was not reported [26] and membrane lipid distributions were preserved using gluteraldehyde-fixation [34]. At cryogenic temperatures, depth resolution and SI yield were improved in depth profiling polymers, partly by reducing sputter-induced topography. [35, 36]. Several studies have reported increased SI yields in FH analyses, and suggested that the increased yield resulted from proton donation from incorporated water molecules to neutral species [37, 38]. Incorporated water during FH analysis has also alleviated the reduction of SI yields caused by KCl-doped arginine films, restoring yields to those that were acquired on undoped films [20]. Cryogenic analysis reduced the damage cross section of primary ions, which improved the SI yields of larger molecular weight ions in polypeptide films [37].
When cells are analyzed FH with ToF-SIMS, a majority of surface water must be removed due to the 1–2 nm surface sensitivity it provides. A practical method to remove this surface water is in situ sublimation [38–40]. This is generally achieved by slowly warming the sample stage from cryogenic temperature to −80°C, effectively freeze-drying the sample for a short period of time. With FH cell analysis, sublimation is often a necessary step to remove any rinsing solution left over from the removal of the culture media.
Instrumentation developments that specifically addressed improving FH SIMS experiments include Ionoptika's J105, which allows for the in-situ freeze fracturing of a frozen cells under vacuum [41]. A cryomicrotome was attached to a ToF-SIMS instrument to serial section frozen tissue in situ and analyze the fresh face of sequential tissue slices [42]. Also, recently an in-situ freeze fracture device was adapted from the J105 freeze fracture system to work on an ION-TOF IV cold stage [43].
As summarized above, there is significant interest and challenges in using different sample preparation procedures for ToF-SIMS imaging of biological cells. The current study provides a comprehensive comparison of the mass spectral information that was obtained from formaldehyde-fixed cells, cryofixed and dehydrated cells, and frozen-hydrated cells. The surface spectra were obtained from cells that were prepared using each preparation method and examined. The secondary ion yields from depth profiles of the chemically fixed cells were compared to freeze-dried cells. A second SI yield comparison was made between freeze-dried cells and frozen-hydrated cells. All organic ions in all depth profiles were investigated. While there have been studies in the past that have examined SI yields as a function of cell preparation method [24, 33], this is the most complete analysis to date. Additionally, several peaks from the frozen-hydrated analyses were identified that were not detected from the dried cells. This work offers additional insight into which are the primary mechanisms of SI yield enhancement and degradation during ToF-SIMS depth profiling of biological cells.
2 Methods
2.1 Cell seeding
NIH/3T3 fibroblasts were seeded onto 1 cm × 1 cm silicon chips [44] at densities between 40,000-100,000 cells and grown for 24–48 hours in Eagle's Dubelco's Modified Essential Medium (Invitrogen, San Diego, CA) supplemented with 10% fetal bovine serum (Thermo Scientific, Erie, PA) and 1% antibiotic/antimycotic (Invitrogen, San Diego, CA). Prior to cell seeding the silicon chips were cleaned with 2x sequential five-minute sonications in dichloromethane, acetone and methanol and stored in a laminar hood until cell seeding.
2.2 Ammonium acetate rinsing solution
Ammonium acetate (AA) (Sigma, St. Louis, MO) was dissolved in 18 MΩ water to form a 150 mM solution, and was brought to pH 7.4 with 1 M ammonium hydroxide [22].
2.3 Rinsing, plunge freezing and freeze-drying of cells
Cells on silicon chips were gently rinsed in 150 mM AA for 30 seconds by slowly dipping the silicon chip in the solution followed by minimal movement of the sample in the rinsing solution. Excess liquid was removed by touching the edges of the chip with a Kimwipe. The sample was then rapidly submerged in liquid ethane (produced by leaking ethane gas into a liquid nitrogen cooled plastic beaker) and quickly transferred to liquid nitrogen (LN2). While under LN2, the chips were placed into small glass test tubes, and the tops were covered with aluminum foil with a small hole. These test tubes were placed into a pre-cooled freeze-dry flask (−80°C freezer overnight), while the chips were still submerged in LN2. The flask was attached to a manifold freeze drier (SP Scientific, Warminster, PA) and a vacuum was established. The samples dried overnight, and then were immediately placed into the ToF-SIMS instrument for analysis.
2.4 Chemical fixation
Cells on silicon chips were rinsed briefly in the AA solution and placed into a 4% formaldehyde (Thermo Scientific, Erie, PA) in PBS buffer (EDS Chemicals) solution at room temperature for 30 minutes. The samples were removed and rinsed for 60 seconds in water. Excess liquid was removed from the samples by touching the edges with a Kimwipe, and then they were air dried overnight in a laminar flow hood. The samples were analyzed the following morning.
2.5 Frozen-hydrated: preparation of cells and analysis
Samples were prepared in a manner similar to that described in Piwowar et al. [45]. Cells on silicon chips were rinsed and plunge frozen as described above. Prior to freezing, it is important to reduce the thickness of the liquid layer to a minimum in order to ensure the best freezing results. After cryofixation in liquid ethane, the samples were transferred to LN2 until placement onto the ToF-SIMS cold stage. The cold stage was pre-cooled to −160°C at 10-7 mbar in the loading chamber, then vented to atmosphere to allow for the placement of the sample. The sample was rapidly transferred from under liquid nitrogen onto the cold stage, where it was held onto the stage by a clip. The cold finger was immediately brought into contact with the cold stage and the loading chamber was immediately pumped down to 5×10-7 mbar. The maximum temperature of the cold stage was −85°C during the entire process, as measured by a thermocouple mounted to the surface of the stage. After the loading chamber was evacuated the sample stage was cooled to −130°C before warming at a rate of 5°C/min to −80°C [38]. The stage was held at −80°C for 30 minutes to sublimate the excess water from the surface of the cells. After the sublimation, the stage was cooled to −160°C and transferred into the analysis chamber. All analyses were performed with the stage temperature at −130°C. Cells maintained a high K+/Na+ ratio, as shown in Additional file 1: Figure S1.
2.6 ToF-SIMS
Positive and negative secondary ion spectra were collected with an ION-TOF TOF SIMS 5–100 instrument (ION-TOF, Münster, Germany), using a pulsed 25 keV Bi3 + primary ion beam. Samples were sputtered using a 20 keV C60 ++ beam. The Bi and C60 beams were oriented 45° to the surface normal. Depth profiles were acquired using the high mass resolution mode (m/Δm = 7000 at m/z 27) in the interlaced mode (one analysis scan per sputter cycle) with a Bi3 + current of 0.15 pA and an analysis area of 500 × 500 μm2. The C60 ++ current was kept between 0.3-0.35 nA and a sputter area of 700 × 700 μm2 was used for all depth profiles. All depth profiles were acquired for 1000 seconds, one shot/pixel and contained 128×128 pixels. Positive ion spectra were mass calibrated using the CH3 +, C2H3 +, C3H5 +, C3H3O+, and C7H7 + peaks. Negative ion spectra were mass calibrated using the CH-, OH-, PO2 -, and PO3 - peaks. Secondary ions were collected over a range of 0–860 m/z. Low energy electrons were flooded onto the sample to compensate for charge buildup on the surface. Some data was collected in the .RAW format using the IONTOF Version 4 software and subsequently converted into the .itm raw data format (IONTOF Surface Lab 6). All data was analyzed using the IONTOF Surface Lab 6 software.
Regions of interest (ROI's) for the cells were chosen in all analyses by thresholding the "totalcounts" image. The signal from the cells was significantly higher than from the substrate. Regions were chosen so that a minimum of substrate would be analyzed during the depth profiles. The SI intensities from the depth profiles were normalized by the primary ion dose to allow direct comparison. Peak lists were created by overlaying representative spectra from each of the preparation methods and using manual peak selection. Known substrate, salt and salt adduct peaks were excluded from the peak lists.
3 Results and discussion
The purpose of these experiments was to examine how various methods of sample preparation affected the chemical information obtained from single cells, with an emphasis on SI yields from depth profiles. This work compares cells that were prepared by formaldehyde-fixation (FF), plunge freezing and freeze-drying (FD), and plunge freezing with frozen-hydrated analysis (FH). This is important for 3D ToF-SIMS imaging, where SI intensities of organic species often quickly decrease due to sputtering induced damage [46].
4 Conclusions
Sample preparation plays a key role in determining the information that is obtained from single cells with ToF-SIMS. The removal of excess media before analysis is necessary, but using rinsing technique that was too aggressive damaged the plasma membrane. The presence of intracellular salts reduced the secondary ion yield an average of 2.6-fold. Chemical fixation followed by rinsing removed a majority of the intracellular salts, "recovering" the positive secondary ion yields. Cl- ion yields were highest in the freeze-dried cells and lowest in the formaldehyde-fixed cells. The data presented here is consistent with anion neutralization as the dominant mechanism for the lower ion yields. All of the organic secondary ions that were detected in the freeze-dried cells were also detected in the formaldehyde-fixed cells. Well-preserved, hydrated cells showed no increase or a decreased yield for most low mass ions, but an increased yield for higher mass fragments. This is consistent with the mechanism where a reduced damage cross section is produced by analysis at cryogenic temperatures. Numerous ions that were detected from the frozen-hydrated cells were not detected from the freeze-dried cells, however many of these ions were attributed to chemical combinations of water, salt and the ammonium acetate rinsing solution.
Future considerations regarding the optimal sample preparation for depth profiling cells would be need to be addressed in a case specific manner (e.g., for experiments that involve mapping small molecule drugs in cells). It may be beneficial (or necessary) to utilize chemical fixation or frozen-hydrated analysis to increase SI yields, but if the molecule is unbound and is removed or relocated during preparation, cryofixation would be necessary for accurate imaging.
Declarations
Acknowledgements
The authors thank NIH and the NIBIB for their financial support (NIH EB-002027) to this work, as well as Dr. Liney Árnadóttir for her technical assistance with the FH sample mounting onto the cold stage. The authors also thank Dr. Buddy Ratner for use of his cell culture facility and Dr. Cecilia Giachelli for the use of her freeze drier.
Authors' Affiliations
(1)
National ESCA and Surface Analysis Center for Biomedical Problems, University of Washington 98195 Seattle, WAUSA, USA
(2)
Department of Chemical Engineering, University of Washington, Seattle, USA
(3)
Department of Bioengineering, University of Washington, Seattle, USA
Copyright
© Robinson and Castner; licensee Springer. 2013
This article is published under license to BioMed Central Ltd. This is an Open Access article distributed under the terms of the Creative Commons Attribution License (http://creativecommons.org/licenses/by/2.0), which permits unrestricted use, distribution, and reproduction in any medium, provided the original work is properly cited.