Original article
Open Access
Helium beam shadowing for high spatial resolution patterning of antibodies on microstructured diagnostic surfaces
Biointerphases
Journal for the Quantitative Biological Interface Data
2013
8:9
Received: 15 January 2013
Accepted: 11 March 2013
Published: 3 April 2013
Abstract
We have developed a technique for the high-resolution, self-aligning, and high-throughput patterning of antibody binding functionality on surfaces by selectively changing the reactivity of protein-coated surfaces in specific regions of a workpiece with a beam of energetic helium particles. The exposed areas are passivated with bovine serum albumin (BSA) and no longer bind the antigen. We demonstrate that patterns can be formed (1) by using a stencil mask with etched openings that forms a patterned exposure, or (2) by using angled exposure to cast shadows of existing raised microstructures on the surface to form self-aligned patterns. We demonstrate the efficacy of this process through the patterning of anti-lysozyme, anti-Norwalk virus, and anti-Escherichia coli antibodies and the subsequent detection of each of their targets by the enzyme-mediated formation of colored or silver deposits, and also by binding of gold nanoparticles. The process allows for the patterning of three-dimensional structures by inclining the sample relative to the beam so that the shadowed regions remain unaltered. We demonstrate that the resolution of the patterning process is of the order of hundreds of nanometers, and that the approach is well-suited for high throughput patterning.
Keywords
PMMASilver NanoparticlesLysozymeBovine Serum Albumin SolutionExposed Region
1 Background
Creating patterned biological functionality of antibodies, enzymes, or cell-adhesion molecules is an essential tool for the development of high-performance bioanalytical devices and diagnostics. Patterned antibody surfaces have previously been formed by ultraviolet (UV) [1–3] and electron beam [4–6] exposure of polymeric films, followed by a development step to create two chemically-distinct surfaces which can be selectively functionalized. These approaches take advantage of well-established lithographic techniques and can achieve very high spatial resolution on planar substrates. Stamping techniques also have been developed to transfer chemically-orthogonal self-assembled monolayers (SAMs) to surfaces by inking a stamp, typically made of polydimethylsiloxane, with the SAM molecule and transferring it from the protrusions on the stamp directly onto the substrate [7, 8]. Direct "writing" of SAMs using an AFM tip has also been demonstrated [9, 10], and nanopipette delivery of biomolecules to specific areas of a previously etched surface also has been developed [11–13]. While these techniques are well established and extremely useful, none are well-suited for patterning surfaces with three-dimensional structures without the need for precise alignment with the existing patterns; an approach to this problem is the subject of the present work.
We are developing a biosensing platform in which the brightness of microfabricated retroreflecting structures is modulated in the presence of analyte by capture of opacifying elements, especially magnetic sample-prep particles. To simplify readout, we form reference retroreflectors proximal to assay reflectors so that the brightness of these structures can be compared in a single image frame to monitor changes in the assay region. The schematic in Figure
1
a shows three-dimensional retroreflective protrusions that reflect light back to its source.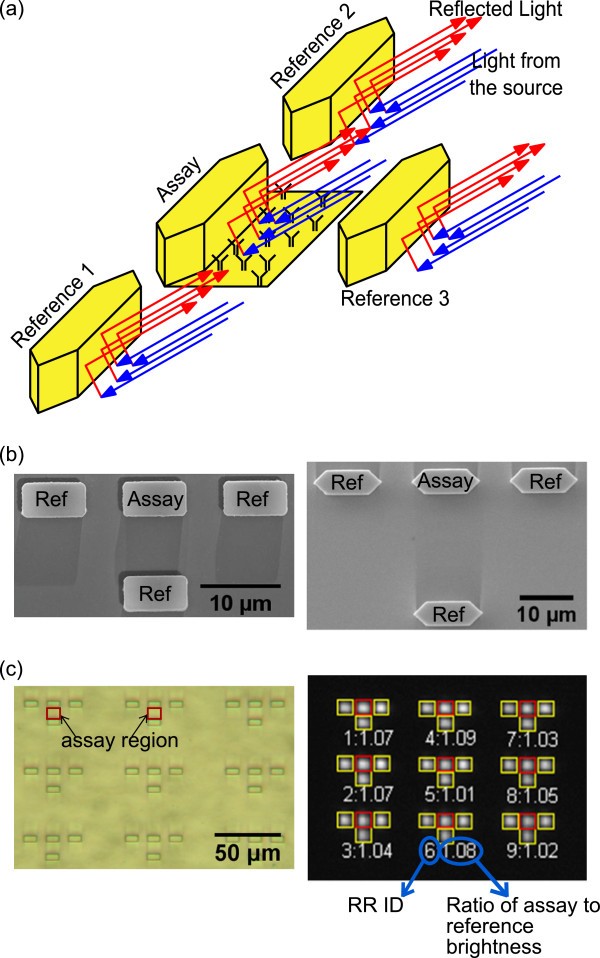 The structures consist of two perpendicular, mirrored surfaces so that light entering the structures reflects from both surfaces to return to its source. The more common retroreflecting design that is used in street and sign markings consist of three mirrored surfaces, which allows them to appear bright for a wide range of azimuthal orientations; the structures used in this work retroreflect only for a fixed azimuth but over a wide range of altitudes, requiring alignment in one direction. The image that is formed consists of four bright spots, each corresponding to the reflections from the longer walls of the structures.
With this design, the three outer reflectors produce an always-bright reference signal for simple identification by automated image recognition algorithms and normalization of the reflectivity of the central assay reflector, which is responsive to analyte. Figure 1b shows scanning electron microscope (SEM) images of first-generation rectangular retroreflectors (left), and second-generation tapered structures (right). The second-generation geometry was designed to experience lower shear forces when fluid flows in the horizontal direction across the structure while still reflecting light from the longer sidewalls. In the presence of the target, the assay reflector brightness decreases when the analyte captured in the assay region (left-hand image in Figure 1c) is labeled with effective light scattering structures that attenuate the reflected signal. Automated image analysis techniques can identify the structures and calculate the ratio of the assay reflector brightness to those of the references, as illustrated in the right-hand image of Figure 1c. The ratio of the intensity of the assay (central reflector) region to the average of the three reference regions is shown alongside a region identifier.
We therefore are interested in developing a patterning process that can (1) take advantage of the presence of three-dimensional structures to avoid the need to align a second pattern to the existing structures and (2) pattern surfaces with a large degree of topography and with high throughput. To address this problem, we have developed a method for casting shadows of a broad, energetic (5–7 keV) helium ion beam and for using this beam to locally modify the activity of a surface uniformly coated with antibodies. Because of the wavelength of these particles is extremely small, this approach has a very large depth of field and can cast high quality shadows over long distances.
4 Conclusions
In this study, we have demonstrated the use of a high-throughput collimated helium beam to pattern antibody-coated surfaces (1) through a stencil mask and (2) by using the geometry of existing three dimensional retroreflector structures to form self-aligned patterns. The results show that, when the exposed surfaces are passivated with BSA after beam exposure, there is an extremely high contrast between the exposed and the protected regions of antibody-modified surfaces. While the exposed regions are well-passivated, the beam-protected (unexposed) antibodies remain functional and allowed for the detection of lysozyme, Norwalk virus-like particles and E. coli bacteria. We have also established that helium beam exposure modifies the antibodies (and other proteins, in this case, BSA) such that they readily capture other proteins (such as BSA for passivation, but also streptavidin and secondary antibodies for contrasting functionality). Helium beam exposure followed by BSA passivation of antibody-modified surfaces can be used to pattern active antibodies with a resolution of at least 300 nm. The localized passivation of antibodies is also well-suited for forming retroreflecting sensor elements whose relative brightness indicates the presence of a scattering material and which can be used as sensitive readouts for bioassays.
Declarations
Acknowledgements
This work was supported by Grant No. U54 AI057156 from NIAID/NIH. Its contents are solely the responsibility of the authors and do not necessarily represent the official views of the RCE Programs Office, NIAID, or NIH. Support was also provided by the National Science Foundation, Grant No. CMMI-0900743, the Alliance for Nanohealth Competitive Research Program (Grant No. W81XWH-09-2-0139), the Welch Foundation, Grant No. E-1264, and the John S. Dunn Research Foundation.
Authors' Affiliations
(1)
Department of Chemical and Biomolecular Engineering, University of Houston, Houston, USA
(2)
Department of Electrical and Computer Engineering, University of Houston, Houston, USA
(3)
Department of Biomedical Engineering, University of Houston, Houston, USA
(4)
Materials Engineering, University of Houston, Houston, USA
(5)
Baylor College of Medicine, Houston, USA
(6)
Department of Biology and Biochemistry, University of Houston, Houston, USA
(7)
The Methodist Hospital Research Institute, Houston, USA
Copyright
© Cacao et al.; licensee Springer. 2013
This article is published under license to BioMed Central Ltd. This is an Open Access article distributed under the terms of the Creative Commons Attribution License (http://creativecommons.org/licenses/by/2.0), which permits unrestricted use, distribution, and reproduction in any medium, provided the original work is properly cited.